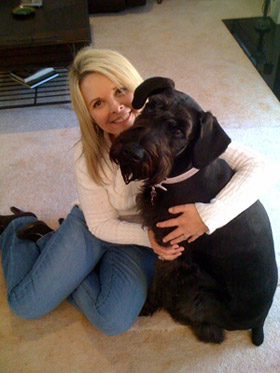 Where were you born?
Gastonia, NC

Hometown and high school?
Gastonia, NC but moved to Bessemer City, NC and went to
Bessemer City High School

Education?
Kings Business College

Favorite pastime?
Spending time with my husband, Brett and my dog, Annabelle
and watching Lifetime movies

As a child, what did you want to be when you grew up?
Secretary or Flight Attendant

Duties with the Big Show?
Promotions

Favorite food?
Mexican

Favorite movie?
About Last Night

Favorite song?
Not sure about one favorite

Favorite band of all time?
Fleetwood Mac

How did you get started in this business?
It's not what you know but who you know!

Any entertainment background you wish to include?
No

Any odd habits?
I'm not telling

Marital status?
Married since Oct. 2000

Children?
1 Giant Schnauzer, Annabelle

What famous person would you like to meet?
I don't know

If you could be any celebrity for the day, who would it be?
Beyonce

First car?
Renault Alliance

What would be your ultimate vacation?
Anything tropical

First job?
Putt Putt Golf – filling out free Putt-Putt cards

Favorite saying?
"Be kinder than necessary, for everyone you meet is fighting some
kind of battle" (I just wish I could always live up to it)

Best memory on the show?
Many

Most interesting guest?
Dolly Parton

Hopes for the future?
That John Boy & Billy want to do this forever

Anything else you would like to add?
Not Really